Nowadays it would seem that stress is unavoidable. Stress is essentially anything that creates a strain. Stress can come at us in a myriad of ways such as lack of sleep, relationship troubles, job concerns and these stresses can affect us both physically and emotionally.
The root of many chronic diseases is often associated with stress including nutritional deficiencies, digestive problems, weight loss or weight gain, depression, fatigue, and more. Managing stress is very important to remaining healthy and one source of stress that is often overlooked is nutritional stress.
Nutritional stress can be easily defined as the stress created by foods with unhealthy properties. However, this definition does not only include the poor quality foods we eat, but also those nutrient dense foods we aren't eating. One way to combat this nutritional stress is to include more nutrient dense foods into your daily meals and replacing or crowding out those unhealthy food items.
Breakfast is so often thought to be "the most important meal of the day," so I thought I would provide you with a nutrient rich breakfast in the form of Blueberry Buckwheat Pancakes.
amzn_assoc_placement = "adunit0";
amzn_assoc_search_bar = "true";
amzn_assoc_tracking_id = "welldess-20";
amzn_assoc_ad_mode = "manual";
amzn_assoc_ad_type = "smart";
amzn_assoc_marketplace = "amazon";
amzn_assoc_region = "US";
amzn_assoc_title = "My Amazon Picks";
amzn_assoc_asins = "B001O8PRZA,B00C0TAH3E,B000WLJKOY,B000NBWRU2";
amzn_assoc_linkid = "824aba1b9c77a8c20a0e03a8e6c771a2";
//z-na.amazon-adsystem.com/widgets/onejs?MarketPlace=US
These Blueberry Buckwheat Pancakes aren't your typical stack of buttermilk (overly processed) pancakes, but instead, they're packed with protein rich hemp flour, flax meal and buckwheat flour and will keep you satisfied all day. So, grab your ingredients, grab a blender and whip up your own delicious stack of grain free goodness!
Blueberry Buckwheat Pancakes
Serves:

8

Prep Time:

0H 0M

Cook Time:

0H 0M

Total:

0H 0M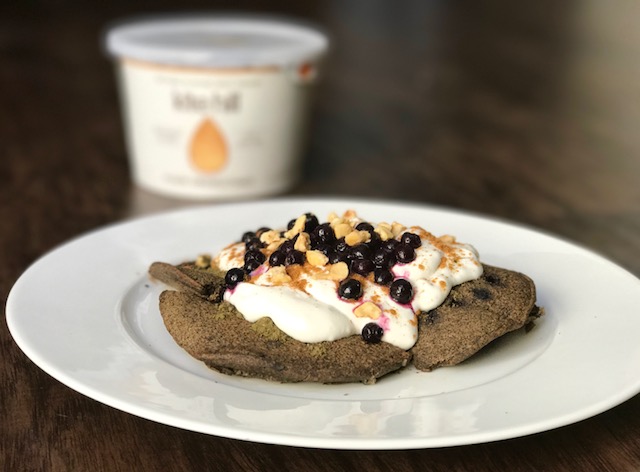 Ingredients
2 cups water

1 banana

2/3 cup buckwheat flour

1/3 cup flax meal

1/3 cup hemp flour

1 Tbsp baking powder

1 tsp cinnamon

1/4 tsp nutmeg

1/3 cup organic wild blueberries

pinch of pink himalayan salt
Directions
1. Using a blender, blend water and banana.
2. Slowly add remaining ingredients to blender (reserving blueberries) and blend until smooth.
3. Stir in blueberries
4. Heat frying pan to medium heat and lightly grease with coconut oil.
5. pour batter on the pan (pancake sizes). Cook 3 minutes (bubbles may appear) before flipping. Cook other side for an additional 2 minutes.
Notes
I prefer to top these yummy pancakes with unsweetened almond yogurt, more berries, cinnamon and chopped hazelnuts
Nutrition
Yield: 8 servings, Amount Per Serving: Calories: 94 , Total Fat: 2g, Saturated Fat: 0g, Trans Fat: 0g, Monounsaturated Fat: 0g, Polyunsaturated Fat: 1g, Carbohydrates: 17g, Fiber: 3g, Sugar: 3g, Protein: 3g, Cholesterol: 0mg, Sodium: 200mg, Calcium: 123mg, Iron: 1mg, Vitamin A: 14IU, Vitamin C: 2mg, Phosphorous: 109mg
Tags
breakfast and brunch, sugar free, gluten free, paleo, grain free, snack, breakfast
Description
A grain free pancake, not quite as light and fluffy as your average buttermilk variety, but completely filling and an ideal breakfast post workout.
---