Fall is here and I could not be more excited. There's always a beautiful bounty of Fall eats including the many varieties of squash. But once it's roasted, you've got to do something to jazz up the flavor a bit. So I've created a creamy and delicious Garlic Artichoke Cream that can be made in a matter of minutes.
I always like to have a can of artichokes in the pantry. If not to jazz up a salad, or a homemade pizza, then this recipe is another fantastic place for them. I'm a huge fan of artichokes for many reasons including their strong links to preventing serious conditions including heart disease and cancer. Artichokes are also known for their nourishing effect on the liver and digestive tract, and their ability to reduce inflammation throughout the body, and of course their absolutely delicious too!
amzn_assoc_placement = "adunit0";
amzn_assoc_search_bar = "true";
amzn_assoc_tracking_id = "welldess-20";
amzn_assoc_ad_mode = "manual";
amzn_assoc_ad_type = "smart";
amzn_assoc_marketplace = "amazon";
amzn_assoc_region = "US";
amzn_assoc_title = "My Amazon Picks";
amzn_assoc_linkid = "fd362132360a763493cb5a5afa9a9d23";
amzn_assoc_asins = "B00N1BYMLS,B00629K4YK,B01688AFFC,B00LN810PM";
//z-na.amazon-adsystem.com/widgets/onejs?MarketPlace=US
These are just a few of the benefits associated with artichokes:
Packed full of cancer preventing antioxidants

Rich in weight reducing fiber that also keeps blood sugar levels stable

An excellent source of iron to ward off anemia

Helpful in keeping skin looking young and supple

Detoxifies and protects the liver

A natural remedy to lower cholestrerol

and if that wasn't enough… artichokes help in the prevention of heart disease.
So what better reason do you need to add artichokes to your meals, especially when you can make a simpleGarlic Artichoke Cream that you can easily toss with a salad, pasta, or my favorite, Spaghetti Squash.
Spaghetti Squash with Garlic Artichoke Cream
Serves:

8

Prep Time:

0H 0M

Cook Time:

0H 0M

Total:

0H 0M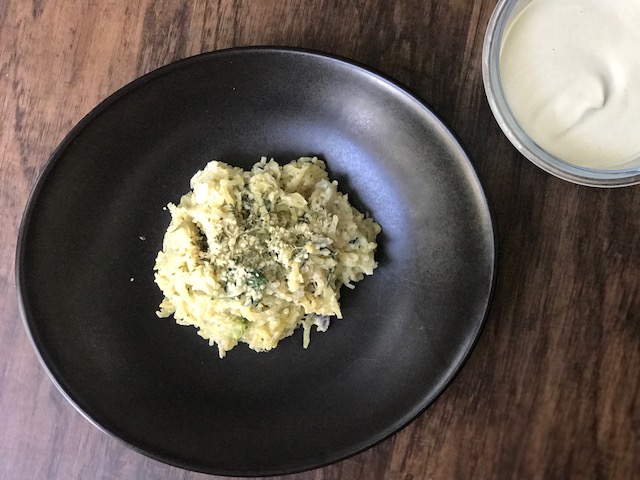 Ingredients
1/2 cup raw cashews

1 can artichokes (in water)

2 cloves garlic

squeeze of lemon

pinch of pink himalayan salt

1 spaghetti squash
Directions
– preheat the oven to 400°F
– slice squash in half and scoop out insides; place cut side down on greased baking pan.
– Bake squash 35-45 minutes.
– in a food processor or high-powered blender, puree remaining ingredients.
– When squash is done. Remove from oven. [when cool enough to handle] Scrape out squash with a fork.
– Stir together squash and puree. Toss it together on the stove top over medium heat if you want to warm it up a bit more.
Notes
Nutrition
Yield: 8 servings, Amount Per Serving: Calories: 98 , Total Fat: 4g, Saturated Fat: 1g, Trans Fat: 0g, Monounsaturated Fat: 2g, Polyunsaturated Fat: 1g, Carbohydrates: 15g, Fiber: 4g, Sugar: 4g, Protein: 3g, Cholesterol: 0mg, Sodium: 129mg, Calcium: 39mg, Iron: 1mg, Vitamin A: 138IU, Vitamin C: 12mg, Phosphorous: 91mg
Tags
sugar free, grain free, vegetarian, vegan, gluten free, lunch, dinner
Description
---